How to Board and Exit
Check the line and destination, then board at the rear door. There is no boarding ticket.
※ You may board from the front door when the driver instructs you to do so.
Touch your IC card to the card reader at the entrance when boarding.
Push the button to let the driver know you want to stop.
Exit through the front door. When exiting, place your fare directly in the fare box.
Touch your IC card to the card reader next to the conductor's seat when disembarking.
※Please inform the conductor beforehand if you wish to pay for multiple passengers.
When using the One-Day Pass, present your pass to the driver so they can clearly check the date printed on the pass.
Money changers are located at the front and rear of the streetcar.
※Only coins and 1,000 yen notes are accepted.
Only IC cards are valid for transfer
The second ride is free when transferring at Shinchi Chinatown or Civic Hall.
Valid transfers are as follows.

How To Transfer Streetcars
First and second transfers are automatically applied to the IC card when you touch it to the scanner at boarding.
IC cards for use on transportation nationwide such as nimoca, SUGOCA, Suica, and PASMO are valid for transfers.

Please be aware that the transfers listed below do not apply.
 If more than 30 minutes have passed between the time you disembark from the first streetcar and board the second streetcar at a valid transfer station
 When a single IC card is used to pay the fares of multiple passengers
 If the entire fare is not paid with a single IC card due to insufficient recharge
 When the settings on the IC card differs from the category of passenger(Adult/Child/Disabled/Disabled Child)
 When transferring to a third streetcar after Civic Hall Station and Shinchi Chinatown Station
Recharge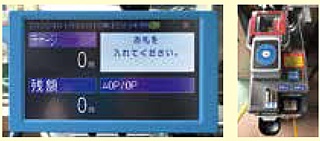 How To Recharge Inside The Streetcar
Press the Charge button.
Place your card on the card reader.
Leave your card on the reader as you insert ¥1,000 bills.
When the recharge amount is displayed on the LCD screen, your recharge is complete. Complete
Nagasaki City Wi-Fi